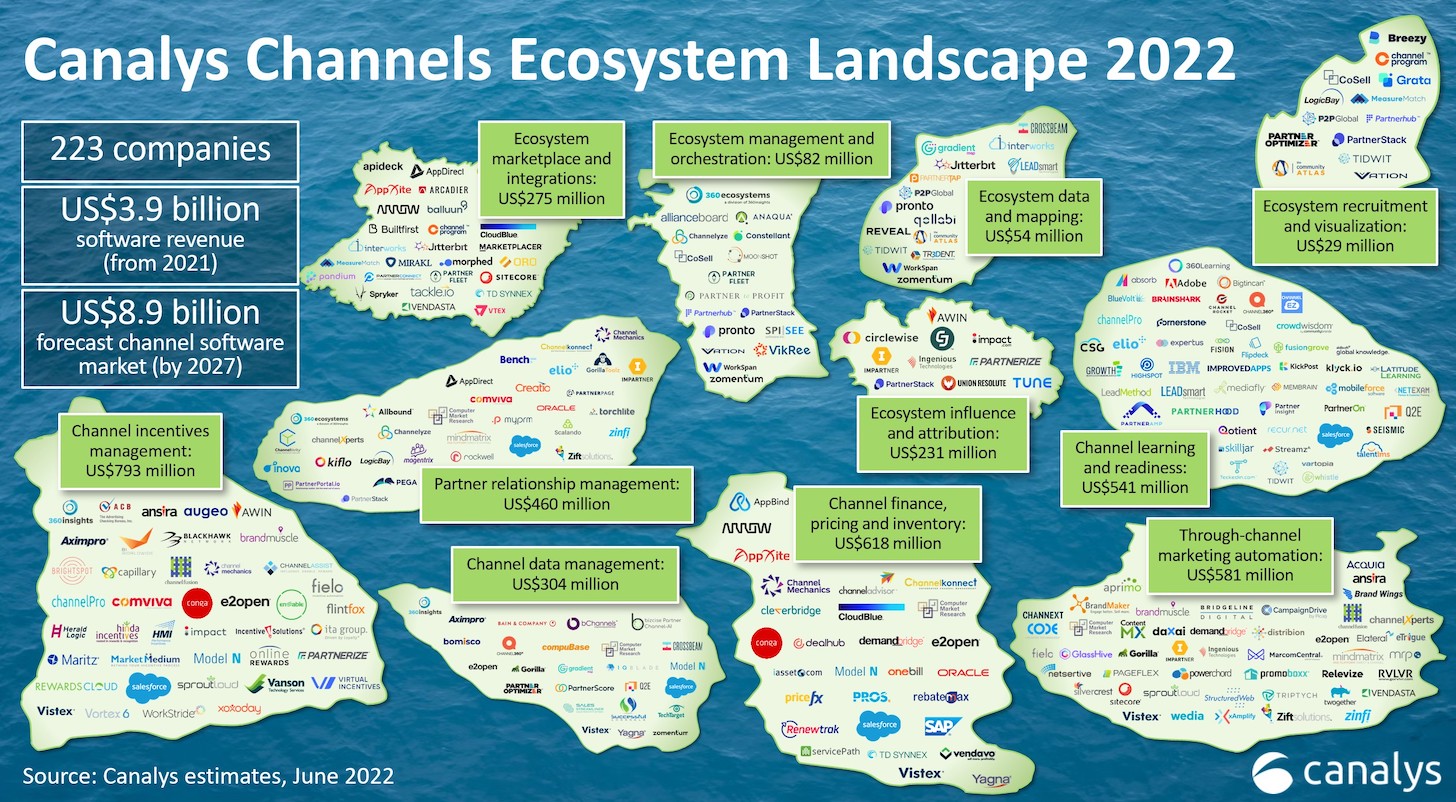 Jay McBain, formerly of Forrester and now with tech analyst firm Canalys, is the world's leading expert in partner, channel, and ecosystem technology. Where I've gone broad with the martech landscape, Jay has gone deep with his own ecosystem tech landscape.
He recently released his 2022 Channels Ecosystem Landscape, shown in the image above but discussed in more detail in his accompanying release write-up.
I first came across Jay's work with his 2017 landscape, where he'd mapped 83 companies across 8 categories of "channel" related software. That was also the post where he boldly estimated that there were 100,000 software companies in the world — a rather staggering number that he expected to grow to 1 million by 2027.
("We're gonna need a big chart," I quipped, thinking of the modest 5,381 solutions on the 2017 martech landscape. Last month, G2 provided empirical data of 103,528 software products reviewed on their site. As a lower bound of the total number of software products in the world in 2022, it makes Jay's estimate for 2027 credible in my opinion.)
Jay's 2022 landscape has grown 169% since 2017, now representing 223 across 11 categories:
Ecosystem management/orchestration, e.g., Channelyze, PartnerStack, WorkSpan
Ecosystem data and mapping, e.g., Crossbeam, Reveal, PartnerTap
Ecosystem recruitment and visualization, e.g., PartnerOptimizer, MeasureMatch
Ecosystem influence and attribution, e.g., Impact.com, Circlewise, Awin
Through-channel marketing automation, e.g., SproutLoud, Distribion, Channext
Channel learning and readiness, e.g., PartnerHood, PartnerAmp, Partner Insight
Channel incentives management, e.g., Partnerize, BrandMuscle, Fielo
Channel data management, e.g., PartnerScore, Aximpro
Channel finance and inventory, e.g., ChannelAdvisor, Channel Mechanics
These are just a representative sample — and worth noting that many vendors in the space span multiple categories. Collectively, they had estimated combined revenues of $3.9 billion in 2021, up 39% from 2020. Jay predicts the space will grow another 128% to $8.9 billion by 2027.
Ecosystems, Ecosystems Everywhere
In my previous post, I discussed how the 2nd Age of Martech is all about convergence in ecosystems. The thousands of specialist apps on the martech landscape, the thousands of firms blending software and services, and more customers building customizations to their martech stack are all doing so around major platforms such as Salesforce, Dynamics, and HubSpot. (Disclosure: I manage HubSpot's platform partnerships.)
Many of the technologies on Jay's landscape help both the platform companies and the partners who engage with them optimize their collaborations. I've seen many of these products up-close — many of them now integrate with HubSpot and are partners in our ecosystem (kinda meta, right?). We also use several of these for managing our ecosystem. It's been impressive to see how much they've advanced over the past couple of years.
But ecosystems certainly aren't unique to martech. Almost every major SaaS category today has thriving ecosystems of software and services firms who grow around core platforms.
It's not even limited to SaaS or B2B. For instance, consider the ecosystem around the Philips Hue lighting platform. Or, the massive ecosystem around Apple's iPhone (not just apps, but accessories, services, and more). Airbnb is an ecosystem, not just of hosts but all the companies providing services to hosts. Amazon (the consumer ecommerce behemoth) and AWS are both massive ecosystems. Transportation services. Downtown districts. Universities. Political parties (gack).
Ecosystems are everywhere to the tune of $70 trillion according to McKinsey.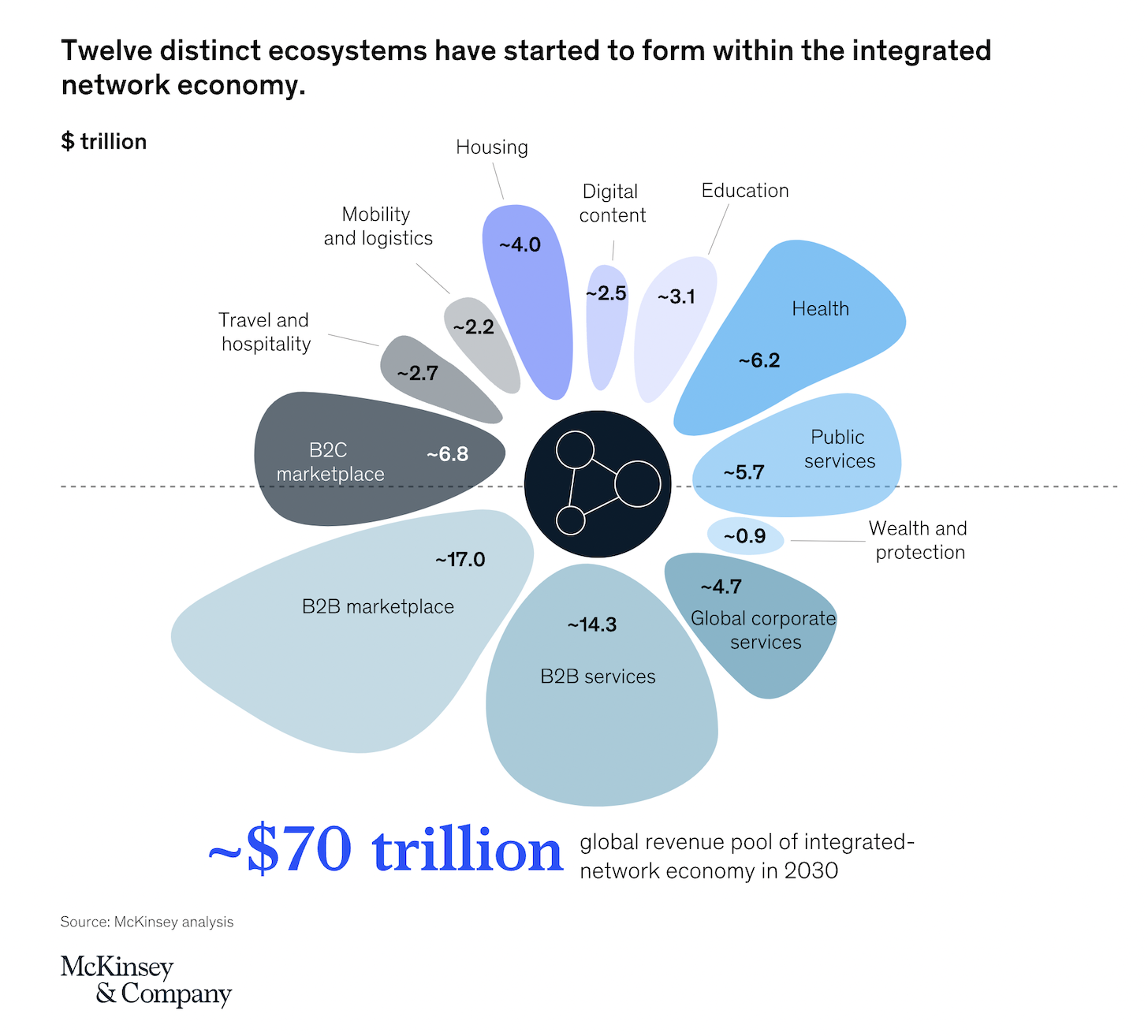 Business ecosystems have been talked about since the 1990's in industrial contexts, such as car manufacturing, as a broader view than strictly linear supply chains and distribution networks. Ecosystem strategies expanded in the context of software platform ecosystems, such as Microsoft Windows. But over the past five years, they've exploded in C-suite and board-level discussions in firms from almost every industry on the planet.
The best-selling book Platform Revolution, released in 2016, was a major catalyst to these discussions. (A fantastic read and even more relevant today as it was six years ago.) It's been followed by a wave of other great books, such as Platform Ecosystems, Platform Scale, The Business of Platforms, Platform Strategy, HBR 10 Reads on Platforms and Ecosystems, The Cold Start Problem, and more. MIT now has an annual conference on platform strategy. Accenture has a whole practice on ecosystem services.
When you realize that an ecosystem, broadly speaking, is the entire range of goods and services that feed into your own offerings — or companies that take your offerings and incorporate them into their own offerings — as well as any channel, product, or service that is related to your offerings because of intersections with your customers, the conclusion is: every company, asymptotically speaking, participates in some kind of ecosystem. Many participate in multiple ecosystems.
They just don't always recognize it.
But that's changing rapidly, in large part due to the digital world collapsing the physical and conceptual distance between companies in an ecosystem. In marketing — and therefore in martech — ecosystem-related plays are blossoming.
When you hear people talk about community-led growth? That's an ecosystem.
When you hear people talk about second-party data? That's an ecosystem.
When you hear people talk about marketplaces? That's an ecosystem.
The Rise of Partner Ops Ecosystem Ops
Once upon a time, not so long ago (with apologies to Bon Jovi), marketing ops was an obscure, underappreciated profession. But the shift to a digital world elevated it to a top-level function of marketing. It's no longer obscure, and it's increasingly well-appreciated.
Partner ops is going through a similar transformation. The mechanics of channel management have been around for a long time, at least in companies that formally embraced a channel distribution strategy. Supply chain management too has been a well-established discipline.
But the scope of partner ops — or as I see it more broadly, ecosystem ops — is quickly expanding to match both the scope of what is now included in our view of our "ecosystem" as well as the opportunity to leverage ecosystem tech in more and more ways in the context of our overall martech stack.
Even if you're not directly in charge of partner ops, as a marketing ops professional, this broader concept of ecosystem ops is super relevant to your work. For instance, if account-based marketing (ABM) is your jam in B2B, you absolutely have to look at how you can leverage the account-mapping functionality of solutions such as Crossbeam, PartnerTap, and Reveal. It unlocks an entire new level of joint go-to-market strategies.
Take a stroll through Jay's latest ecosystem tech landscape, and I guarantee you'll discover something that will inspire new ideas for how your business can leverage the power of ecosystem-driven marketing.
P.S. Canalys, Partnership Leaders, and HubSpot are currently conducting a study of partner ops for a report we'll publish later this year. If you are directly working with partner ops/ecosystem ops, please participate in this survey this week (closes September 23).
Get chiefmartec.com directly in your inbox!
Subscribe to my newsletter to get the latest insights on martech as soon as they hit the wire. I usually publish an article every week or two — aiming for quality over quantity.